Newspaper Article About Our Kosher Certification Acquisition
What\'s New
4.42019
Newspaper Article About Our Kosher Certification Acquisition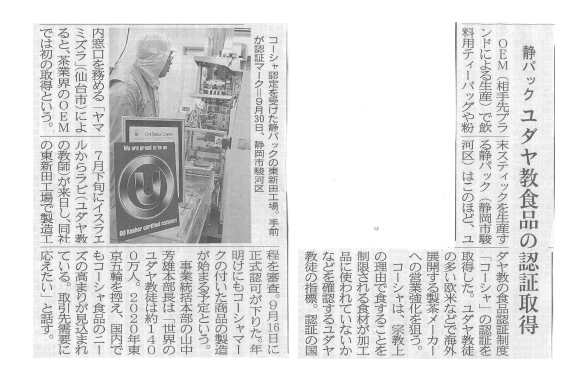 Our corporation's Kosher Certification acquisition is published in an article in the Shizuoka newspaper.
The following of the article content:
"Shizu Pack Jewish Food Certification Acquisition
Shizu Pack Corporation (located at Suruga District, Shizuoka City), where its main business is producing teabag and coffee bags, alongside powder stick manufacturing, all of these were according to OEMs (Original Equipment Manufacturer) method, has recently acquired the certification for producing Jewish food, the Kosher Certification.
Aim to strengthen sales and expand the business horizon into the locations where many Jews people inhabited, mainly focus on Europe and America.
Kosher is a seal approved by the rabbinic community agency verifying the foods were prepared according to the Jew (or Judaism) dietary laws, as well as ingredients production, the production facility, and the product. It is believed that Shizu Pack was the first to acquire this certification in the tea bag industry.
A rabbi (Jewish teacher) from Israel visited Japan in late July and examined the manufacturing process at the corporation's Toushinden branch factory. Official permission was granted on September 16th. Following the official permission, the goods produced with Kosher's seal will start production at the beginning of next year.
"There are 14 million Jews people around the world, and the need for Kosher qualified food is expected to grow in Japan ahead of the 2020 Tokyo Olympics. We want to meet the demand of our business partners.", said Mr. Yamanaka, the general manager of the business headquarters."