1987 Nikkei Newspaper Published An Article About Shizu Pack's Triangular Teabag Development
What\'s New
4.12019
1987 Nikkei Newspaper Published An Article About Shizu Pack's Triangular Teabag Development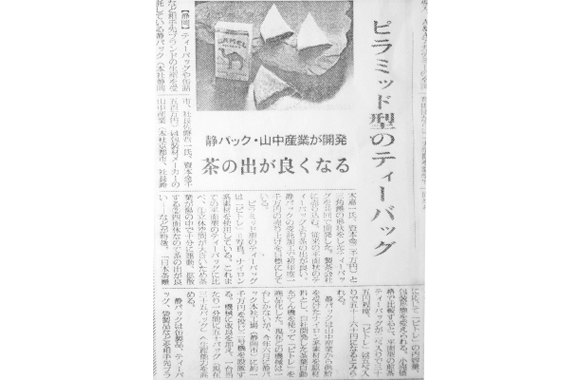 An article was published in Nikkei Sangyou Newspaper in Shōwa Year 62 (1987) about the joint development of triangular teabag shaped between Shizu Pack Corporation and Yamanaka Sangyou Corporation.
Below is a part of this article:
"Pyramid shaped teabag
Developed by Shizu Pack Corporation and Yamanaka Sangyou Corporation – Improves Tea Production
【Shizuoka】Shizu Pack Corporation, which is entrusted with the production of teabags and canned foods, has joined the development of a triangular pyramid-shaped teabag with Yamanaka Sangyou, a packaging material manufacturer.
Promoted the teabag to tea ingredient manufacturers. Compared to conventional flat teabag, the tea's flavor that comes out tastes better.
The pyramid-shaped teabag codename is "Pitre" (ピトレ), which main material used is nylon. Compared to the conventional flat teabag, (1) the three-dimensional space is large, so the tea leaves contained inside will move and diffuse sufficiently when pouring the hot water, (2) and because of the tetrahedron shaped, the tea comes out will taste better.
"I thought about appeal this type of teabag to the younger generations, who are losing connection to the traditional Japanese Tea."
This type of teabag is not only suiting for Japanese tea such as Sencha or Hōjicha but it is also fitted with black tea or oolong tea. The net content, the packaging shape of "Pitre" could be changed according to the customer'request.