Drip Teabag Processing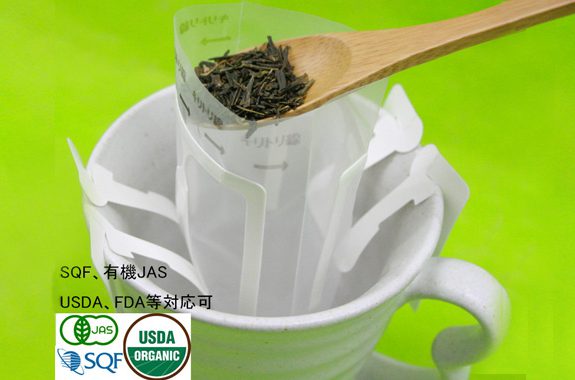 Drip-type teabag is widely used for various types of tea, such as green tea, black tea, herbal tea, and Chinese tea.
We also suggest manufacturing Sencha (non-powdered tea) and black tea with the drip-type bag.
The drip-type bag attracts attention because of its ease of use and convenience, allow people to enjoy more delicious tea and coffee.
It can be filled with a large amount of tea material by utilizing the big storage inside the bag.
Therefore, it can also use to fill with tea leaves of first-grade green tea or black tea.
The flavor from fine quality tea leaves will be extracted from inside the tea bag, so the user could enjoy more delicious tea and coffee.
The bag material is mainly polyester gauze, so it does not decompose easily in hot water or even in high temperature burnt, it is also environmentally friendly.