What\'s New
4.12019
Drip Bag Package With Printed Mt. Fuji Image Article Published On Local Newspaper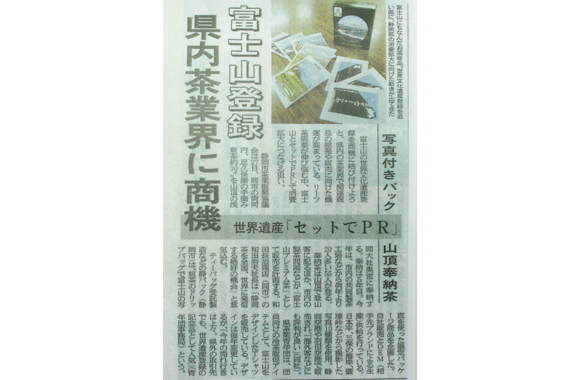 An article about Mt. Fuji World Cultural Heritage Registration Memorial day drip bag was published in a local newspaper.
Mt. Fuji World Heritage Registration: business opportunities for the tea industry in the Prefecture.
[PR with Set] for the World Heritage
To celebrate the date that Mt. Fuji acquired the World Heritage title, the tea industry in the prefecture, which is developing as well as push forward marketing-related products, is creating more business opportunities.
While the demand for green tea leaves is not growing as much as expected, the aim for this time campaign is to sell the product alongside a set of Mt. Fuji Images.
Summit Votive Tea
On the 27th, the Shizuoka City Tea Industry Promotion Council will dedicate about 30kg of hand-picked new tea leaves from Ashikubo on both sides of the city to the Asama Taisha Okumiya on the mountain top.
This dedication lasts for 5 years. This year, around 55 people, 20 more people than every other year, come from the city's tea factory will climb up the mountain to the summit.
In addition to distributing the tea to the climber at the summit, the wholesalers in the city plan to sell it as "Mt. Fuji Premium Tea".
Haruo Wada, the president of the Wada Choji Firm (in the same city), is very enthusiastic about "a great opportunity to introduced and distributed Shizuoka Tea to the whole country and even the world."
A stack of Mt. Fuji images attached
Shizu Pack (located at Shizuoka City), entrusted with the manufacturing teabags, has planned a limited-edition package product that comes with the set of Mt. Fuji photos and drip bags of sencha.
The product is selling at the company's headquarter location and provision OEM (Original Equipment of Manufacturer).
Around 10 photographs of Mt. Fuji being used was taken from various location such as Nihondaira, Miho Coast, Satta Mountain Pass, etc. The special item is selling at Fuji Shizuoka Airport and Haneda Airport, and it "has a good reputation with overseas customers".
The prefectural tea industry young person's association, with cold tea for its own member, is pushing selling T-shirts with Mt. Fuji design. Even though the design change every year, but "this year's sale is good. It is also popular to the businesses outside the prefecture to remember the date Mt. Fuji being titled World Heritage."(Youth Group Secretariat).